Side scan sonar (SSS) är ett sidotittande ekolod monterad i en torpedliknande så kallad sonarfisk som bogseras ovanför botten.  Sonarfisken sänder ut ultraljud-strålar som reflekteras tillbaka från havsbotten och föremål. Tiden och styrkan på ljudekot analyseras och omvandlas sedan till en digital bild.
Sonar surveys is particularly effective for the detection and positioning of objects such as wrecks, mines, pipes, or other objects and can also be used to assess the hardness and nature of the seabed. Large areas can be quickly searched as the sonar can see up to 150m to each side and be towed at several knots speed. 
Multibeam Side Scan Sonar
Ocean Discovery uses a high-speed multibeam side scan sonar – Klein 5000. The Klein 5000 can deliver data without loss of quality at up to 10 knots, which means cost savings for the customer when mapping larger areas. The resolution is up to 10cm per pixel and maximum range is 150m per side, automatic heave compensation ensures high image quality and excellent contrast in the image. Collected data can be delivered as KML/GIS maps or as PDF reports. Together with our survey vessel equipped with autopilot with gyro compass and a heavy sonar winch with 400m reinforced cable, the seabed down to 200m depth can be surveyed quickly and efficiently.
Light weight side scan sonar
For near shore and lake surveys we use a lighter system that can be launched from smaller workboats. We also have hull mounted sonar suitable for examination in calm waters at shallow depths.
Light weight sonar system from small work boats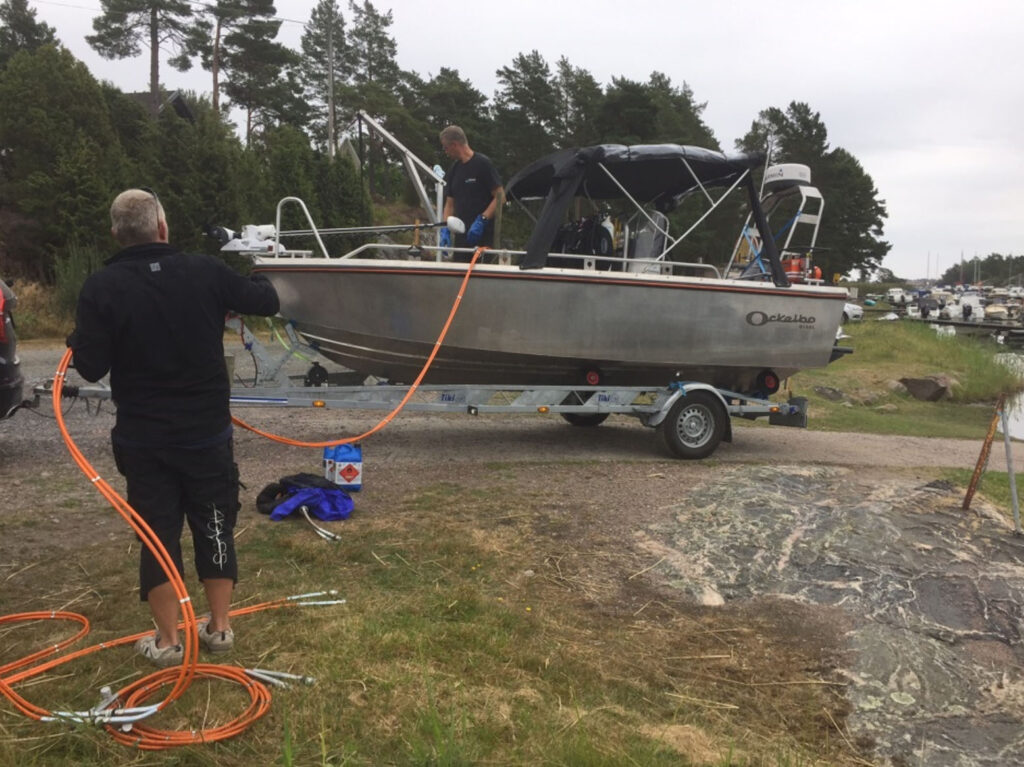 Pipeline survey
Sjömätning och kartering  av farleder och hamnar
Shipwreck searches
Dredging surveys
Seabed assessment